DANASWABS Sample Collection Kit provide a safe and rapid all-in-one procedure for the collection, stabilization and transportation of saliva swab samples. It contains a swabs + preservation buffer microtube.
We use Swabs  specifically designed and dedicated to DNA collection , this swabs are certified DNase, RNase-Free and Human DNA-Free, as well as free of any PCR inhibitors. And tested in our laboratory as the highest yielding DNA.
After collection the swab is introduced into a microtube containing a preservation solution, thus the buccal cells can be transported and stabilized for 1 year at room temperature and indefinitely at -20 or -80.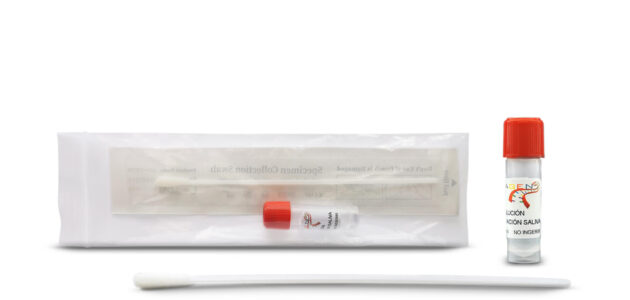 Specifications:
• Unique swab matrix greatly improves DNA yields
• Painless, non-invasive collection.
• Easy to handle and quick to use.
• Compatible with most DNA isolation methods and can be automated.
• Sample remains stable for 1 year at room temperature.
• High quality DNA is suitable for sensitive downstream applications.
Applications:
• STR Analysis-Human identification.
• Genetics.
• Forensics.
• Paternity Tests.
• Research Genotyping.
| | | |
| --- | --- | --- |
| Reference | Product Description | Preps |
| 0615.50 | DANASWABS Sample Collection kit | 50 |
| 0615.100 | DANASWABS Sample Collection kit | 100 |
| 0615.500 | DANASWABS Sample Collection kit | 500 |
| 0615.1000 | DANASWABS Sample Collection kit | 1000 |
| 0617.1 | Individual Swabs with container | 1 |
Download Protocol