DANASALIVA Sample Collection Kit provides a safe and rapid all-in-one procedure for the collection, stabilization and transportation of 2 ml saliva samples at ambient temperature.
Our system effectively stabilizes buccal cell and white blood cells found in saliva without breaking them over 1 year at room temperature.
Saliva samples are collected by spitting inside the collection funnel which has been assembled with the collection tube. After collecting 2 ml saliva the contents of saliva preservation solution are then added and mixed with the collected saliva. The saliva collection tube is sent to the laboratory for DNA isolation and analysis using the DANAGENE SALIVA KIT.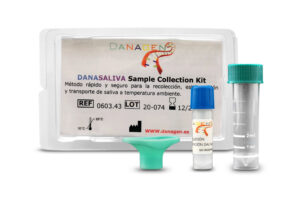 We can customize your product with your brand without any additional cost.

Specifications:
• Easy collection, transportation and processing.
• Painless, non-invasive collection.
• Samples can be mailed using the standard postal system.
• Compatible with most DNA isolation methods and can be automated.
• Sample remains stable for 1 year at room temperature, reducing transportation and storage costs.
• High quality DNA is suitable for sensitive downstream applications.
Applications:
• STR Analysis-Human identification.
• Genetics.
• Forensics.
• Paternity Tests.
• Research Genotyping.
| | | |
| --- | --- | --- |
| Reference | Product Description | Preps |
| 0603.43 | DANASALIVA Sample Collection Kit | 1 |
| 0603.43100 | DANASALIVA Sample Collection Kit | 100 |
| 0603.43500 | DANASALIVA Sample Collection Kit | 500 |
| 0603.431000 | DANASALIVA Sample Collection Kit | 1000 |
Download Protocol