Saliva, the most accessible and noninvasive biofluid of our body, harbors a wide spectrum of biological analytes informative for clinical diagnostic applications. Recently, human RNA obtained from saliva was shown to be a biomarker for several diseases.
DANAGEN-BIOTED has developed a complete system that uses saliva as the sample source for expression studies.
1.DANASALIVA RNA Sample Collection Kit provides a safe and rapid all-in-one procedure for the collection, stabilization and transportation of 1 ml saliva samples at ambient temperature that stabilizes RNA from the moment of collection for 1 month.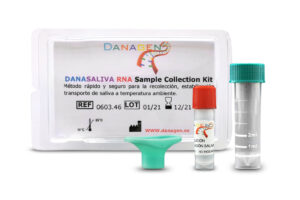 Saliva samples are collected by spitting inside the collection funnel which has been assembled with the collection tube. After collecting 1 ml saliva the content of saliva preservation solution are then added and mixed with the collected saliva. The saliva collection tube is sent to the laboratory for RNA isolation and analysis using the DANAGENE SALIVA RNA Kit.
DANAGENE SALIVA RNA Kit has been designed for a fast and efficient purification of total RNA from preserved saliva samples.
The process includes a cell lysis with proteinase K followed by a precipitation of the proteins and part of genomic DNA. Later, by a precipitation with isopropanol, total RNA is obtained, which is finally rehydrated. Finally, for removal of genomic DNA contamination  is used an approach consisting of two sequential filtrations with different MiroSpin columns.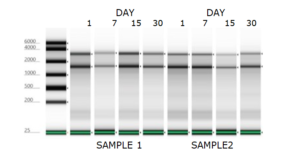 Purified total RNA is analyzed by the Agilent 4200 TapeStation System
DANASALIVA RNA Sample Collection Kit
• Easy collection, transportation and processing.
• Sample volume: 1 ml saliva
• Sample remains stable for 1 month at room temperature, reducing transportation and storage costs.
• Painless, non-invasive collection.
• Samples can be mailed using the standard postal system.
• Human mRNA expression profiling.
DANAGENE SALIVA RNA Kit
• Buffer-based RNA isolation combined with gDNA removal with columns.
• Sample volume: 600 μl of preserved saliva sample.
• RNA is isolated without the use of harmful chemicals as phenol or chloroform.
• Total RNA:
• A260/A280 Ratio: >1.8
• Elution volume: 50 μl.
| | | |
| --- | --- | --- |
| Reference | Product Description | Preps |
| 0603.46100 | DANASALIVA RNA Sample Collection Kit | 100 |
| 0603.46500 | DANASALIVA RNA Sample Collection Kit | 500 |
| 0603.461000 | DANASALIVA RNA Sample Collection Kit | 1000 |
| 0809.1 | DANAGENE SALIVA RNA Kit | 50 |
Download Protocol