This kit provides a method for an efficient and fast total RNA from different cells and tissues of plants and fungi samples using an efficient RNA miniprep system.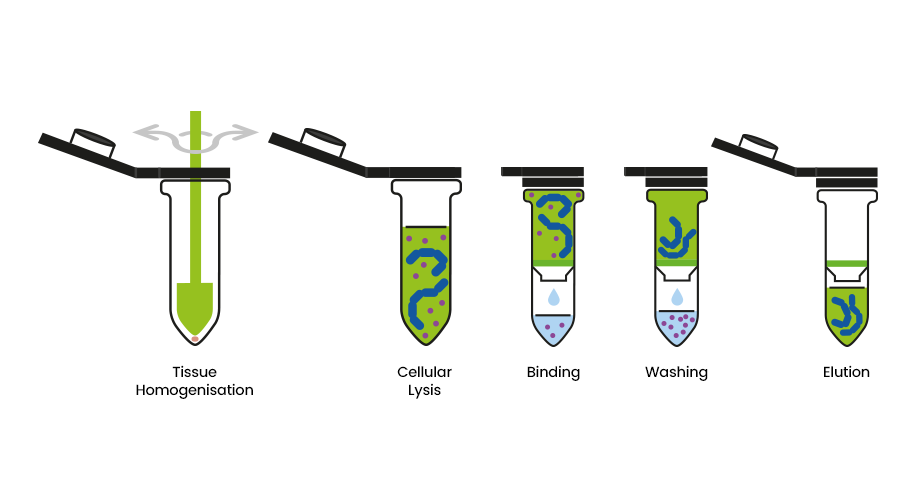 The samples are ground under liquid nitrogen followed by incubation in the lysis solution which immediately inactives the RNases and creates the correct binding conditions for the RNA absorption on the silica membrane. Together with the lysis solution, a PVP (polyvinylpyrrolidone) solution is added, that acts binding contaminants such us polyssacharides and polyphenols which may interfere or degrade the RNA.
Salt metabolites and cell components are removed by washing with 2 different buffers. The total RNA is eluted with nuclease free-water.
DANAGENE PLANT RNA Kit contains 2 different lysis solutions, one based on guanidine thiocyanate, the most recommended due to its high denaturation property, and other based on guanidine HCl as in some plants and fungi the presence of certain metabolites produces a solidification of the lysate.
Specifications:
• High-quality total RNA in 30 minutes.
• Two alternative lysis buffers included – optimized lysis procedure.
• Sample Material: up to 100 mg (fresh plant tissue), up to 25 mg (dry plant tissue).
• No phenol/chloroform extraction, no CsCl gradients, no LiCl or ethanol precipitation.
Applications:
• RNA from plant cells and tissue
• RNA from filamentous fungi
• Typical downstream applications: real-time RT-PCR, gene expression profiling, Northern blotting, primer extension, array technology, RNase protection assays
| | | |
| --- | --- | --- |
| Reference | Product Description | Preps |
| 0802.1 | DANAGENE PLANT RNA Kit | 100 |
| 0802.2 | DANAGENE PLANT RNA Kit | 500 |
Download Protocol