DANAGENE PLASMID Midi/Maxiprep Kit offers a simple method for isolating plasmid DNA from 25-500 ml of recombinant E.coli cultures.
This kit combines a modified alkaline lysis method with the convenience of anion-exchange columns to isolate high purity transfection grade plasmid DNA from bacterial cell lysates.
During the cell lysis step, both chromosomal and plasmid DNA are denatured. Potassium acetate is added to form a neutralized precipitate containing chromosomal DNA and other cellular components.
Plasmid DNA remains in the solution, reverts to its native supercoiled structure, and is then loaded onto an equilibrated anion-exchange column. The plasmid DNA becomes bound to the anion-exchange resin and is then eluted from the column with washing steps. Eluted DNA is precipitated and easily dissolved in TE buffer or nuclease-free-water.
The purified plasmids are suitable for use in the most demanding molecular biology applications, including transfection, in vitro transcription, automated or manual sequencing, cloning, hybridization and PCR assured of maximum product yield.
It introduces TrueBLUE Lysis control reagent a color indicator wich provides visual identification of optimum buffer mixing. This prevent common handling errors that lead to inefficient cell lysis and incomplete precipitation of SDS, genomic DNA and cell debris. This makes ideal for use by researchers who have not much experience with plasmid preparation as well as experienced scientists who want to be assured of maximum product yield.
Visualization of efficient cell lysis and SDS precipitation using TrueBLUE Lysis control reagent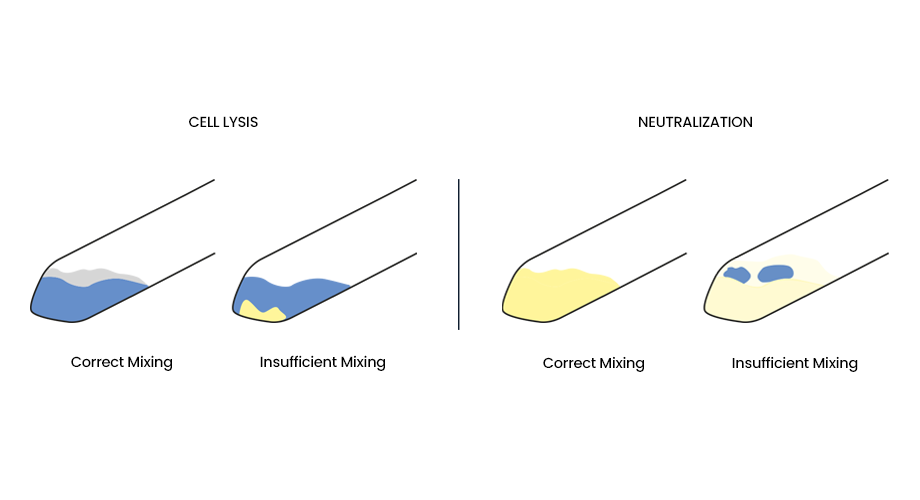 Specifications:
• Based on familiar anion-exchange columns.
• Achieve transfection grade plasmid purity.
• Columns available in MIDI (25/50 ml high-copy plasmids / 100ml low-copy plasmids) and MAXI (100/ 150 ml high-copy plasmids / 500ml low-copy plasmids) formats.
• Each kit includes gravity-flow columns and all the necessary reagents for ultrapure plasmid purification.
• Includes specialized filters to optional remove cellular debris from lysates.
| | | |
| --- | --- | --- |
| Reference | Product Description | Preps |
| 0702.3 | DANAGENE PLASMID MIDIPREP Kit | 25 |
| 0702.4 | DANAGENE PLASMID MAXIPREP Kit | 10 |
Download Protocol